Automation Data Capture Solutions
Increase the reliability and accuracy of your Automation processes.
It is of the utmost importance that today's manufacturing facilities ensure that their production processes are running as smoothly and as efficiently as possible. Failure to do so will result in a throughput reduction of mass-produced products and will ultimately have an adverse effect on margins, causing financial loss.
Thanks to our understanding of the need to implement effective automation processes in order to achieve maximum efficiency and increase manufacturing productivity, accuracy and throughput, our range of digital automation solutions collect data directly from production line assets and communicate the information directly to the host system.
In comparison with error-prone manual processes, digital automation reduces the costs which result from human error and helps to streamline production, making businesses more efficient and profitable.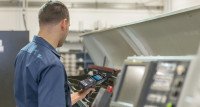 Order fulfilment and planning is improved, while production line assets can be effectively configured, closing manufacturing gaps and ensuring that maximum product output is achieved at all times.
Our solutions also offer real-time visibility and production line status, while potential costly and disruptive issues such as incorrect packaging and misplaced barcode labels can be eradicated thanks to automatic alerts, helping to reduce the need to rectify errors further down the line.
To find out more about how Dakota can help you realise the benefits of production line automation, contact us today.
See how we can help
If you'd like to talk to us about how Automation can help you, please do get in touch.
Talk to an expert