Voice Directed Care
Prioritise and manage the administration of medicines and patient observations through the use of voice-directed technology
About Voice-Care
Voice-Care is a ground-breaking solution developed specifically for the healthcare sector, designed to progressively transform patient safety and care.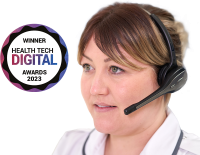 Allowing users to work totally hands and eyes free, Voice-Care is an easy to use, low-cost and dynamic digital solution which addresses the need to simplify the recording of patient observations directly from the bedside in real time.
How does it work?
Voice-Care prioritises and manages the administration of medicines and patient observations through the use of voice-directed technology.
It provides caregivers with the steps required to care for their patients by giving verbal instructions through a headset, then prompting the caregiver to speak and record observations through the headset or via the intuitive interactive app.
Voice Directed Care Throughout the Hospital
| | |
| --- | --- |
| | Supporting integration with existing hospital systems, the solution can be reconfigured to suit the demands of other healthcare applications wherever there needs to be compliant inspections or a patient/carer scenario. |
The benefits of Voice-Care are far-reaching for patients, their families & medical teams alike.
Patient-Centred Care:

Caregivers work totally hands and eyes free, allowing them to maintain eye contact with the patient for more personalised engagement levels.
Higher Quality Observations:

Ensures highly accurate observations and medication administration to achieve 100% compliance throughout standard processes.
Real-Time Recording of Information:

Upload and record observation data to the ePR or NEWS2 Platform in real time, helping to drive the most appropriate patient care plan.
Simplify Shift Changeovers:

The instant upload of patient notes, information and updates to the ePR helps shift changeovers become faster, simpler and more accurate.
More Productivity, More Impact:

Staff are guided through the most optimum route around patients and wards, helping to boost caregiver efficiency by more than 35%.
Protects Those Who Protect Others:

Step-by-step and date and time stamped observations help mitigate potential errors and provide medical staff with accountability, transparency and protection.
Reduction of Carbon Footprint:

Dramatically reduces paper usage, helping Trusts to care for the environment as well as their patients.
The Voice-Care Family App
The Voice-Care secure mobile phone app
ensures that next of kin with the correct
security settings have access to patient
updates and progress.
'Best Healthcare Management Solution'

See how we can help
If you'd like to talk to us about how Voice Directed Care can help you, please do get in touch.
Talk to an expert