Dakota Receives 'Highly Commended' Accolade In The 'SME Of The Year' Category At The Leading Healthcare Awards 2022
8th April 2022
Dakota Integrated Solutions Ltd, a real-time data capture, printing, mobility, support and voice-directed solution specialist, is delighted to announce that it has received a 'Highly Commended' Accolade in the 'SME of the Year' Category at the Leading Healthcare Awards 2022.
The Leading Healthcare Awards celebrate and recognise great teams, partnerships, innovations and programmes across health and care, as well as providing a platform to share ideas and to learn about various innovative concepts which are shaping health and care services now and in the future.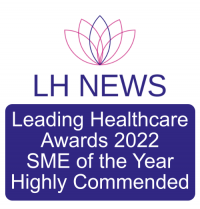 Dakota's continued support of the NHS during the Covid pandemic and beyond formed the basis of its entry into the Awards. Despite the country going into lockdown, Dakota ensured that its daily wristband shipments to NHS facilities all around the country continued, enlisting the help of only a few skeleton staff in order to cope with the huge number of deliveries and shipments. This enabled Dakota to maintain its support of the NHS by processing all orders and continuing its wristband consignments when they were needed the most. Dakota has worked extremely hard to supply over 30 million wristbands to the NHS over the past 24 months.
Keith Hardy, Managing Director at Dakota, comments "Hospitals were becoming over-whelmed, and we wanted to ensure that hospital workers, staff and clinicians had everything they needed at all times in order to cope with the vast influx of patients. Shipments were leaving our warehouse on a daily basis, so we made sure that there was always someone on hand to handle these – we never missed a day. Our Warehouse Manager even came out of retirement to assist in our efforts. I am extremely proud of how the team pulled together in order to do their part to support the NHS during the pandemic and the lengths that the staff have gone to to continue this support ever since. We are extremely proud to have received this award and look forward to working alongside the NHS for many years to come."
With a rich history in supplying over 200 NHS Trusts and several hospital groups within the private healthcare sector with fit-for-purpose technology solutions due to their expertise and close working relationships with Framework Resellers and the NHS Supply Chain, Dakota provides full integration expertise across a broad range of healthcare applications including bedside point of care, positive patient identification, track and trace, domiciliary care, asset tagging and inventory control.
Offering a knowledgeable and consultative sales approach, Dakota provides a value-added service to its existing and prospective customers, recommending the right devices and technology for its clients' specific and diverse requirements.
In addition to being a GS1 UK Partner and an expert in deploying GS1-UK wristband solutions, Dakota is also a supporter of the Scan4Saftey initiative, part of the eProcurement strategy set out by the Department of Health, and has been involved in projects with the 6 NHS Acute Trusts selected as demonstrator sites of excellence for the use of GS1 and PEPPOL Standards.