Domiciliary Care
Access real-time information at the point-of-care
We are increasingly aware of rising technology adoption within the care community.
In light of the current pressures on the NHS and bed shortages in hospitals, patients tend to be discharged as quickly and as feasibly as they can; being sent back home to recuperate after treatment or operations.
Community nurses, healthcare assistants, health visitors and carers require innovative solutions which enable them to seamlessly and securely access real-time information at the point-of-care.
We are able to recommend mobile computing, printing technology and secure remote connectivity via N3 to reduce administrative tasks for mobile workers and help deliver a paper-light NHS, whilst improving efficiencies and patient care.
As well as domestic staff, we also work with organisations who provide valuable services to the NHS such as pharmacists, care homes and hospices.
We are in regular contact with various software providers of solutions to mobilise community and domiciliary staff. Contact us today to discuss your domiciliary care technology requirements.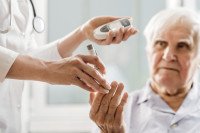 See how we can help
If you'd like to talk to us about how Domiciliary Care can help you, please do get in touch.
Talk to an expert