Falsified Medicines Directive
Reduce the risk of falsified medicines reaching patients
The Falsified Medicines Directive (FMD) is a European legislation designed to protect the medicines supply chain by removing any falsified medicinal product sold across Europe.
Under the FMD Initiative, all new packs of prescription medicines placed on the market in Europe have to include two safety features: a unique identifier (UI) in the form of a 2D data matrix barcode and a sealed anti-tampering device (ATD).
In order to reduce the risk of falsified medicines reaching patients, community pharmacies will have to authenticate each pack as part of the dispending process before the medicine is supplied.
Authenticity is checked in two ways:
Visual inspection of the tamper-evident features
Scanning and checking UI against databases at EU and national levels
We provide a range of barcode scanning solutions designed to be used within pharmacies, including hands-free, fixed mount and on-counter tethered and wireless barcode scanners, all of which are compatible with Trust Pharmacy systems and GS1-compliant barcodes.
Contact us today for more information.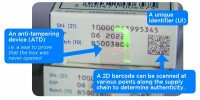 See how we can help
If you'd like to talk to us about how Falsified Medicines Directive can help you, please do get in touch.
Talk to an expert