Inventory Control
Enhance patient care & achieve financial efficiency
All medical assets regardless of their size, use or value are extremely important.
Tracking assets within a hospital can be time-consuming and costly. Effective asset management can help contribute to the provision of good patient care and the achievement of greater financial efficiencies.
Utilising Dakota's expertise in barcode and RFID technology, we can help you track assets and improve efficiencies in a number of areas with a hospital environment, helping to save time and money:
Surgical equipment tracking
Materials management
Theatre inventory
Surgical instrument tracking (including Direct Part Marking identification)
Food tray tracking
Contact us today to discuss deploying our inventory control solution within your healthcare facility.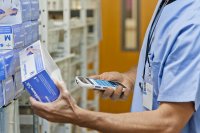 See how we can help
If you'd like to talk to us about how Inventory Control can help you, please do get in touch.
Talk to an expert