Manufacturing Data Capture Solutions
Take control of your manufacturing processes.
Manufacturers are constantly facing ever-increasing pressure to reduce product-to-market deadlines and lower their margins. If they don't; their competitors will.
At Dakota, we understand the needs of manufacturers, which is why we have a range of fit-for-purpose products and solutions designed to help alleviate the pressures faced within manufacturing facilities today.
Created with increased efficiency, cost reduction and real-time data capture at the process level in mind, our solutions collect data directly from production line assets, giving managers full, real-time control over data and costs.
Thanks to our strong, ongoing relationships with industry-leading data capture hardware and software partners, our solutions help to streamline data entry processes by eliminating paper-based data capture in order to provide an accurate and up-to-date overview across the entire organisation of ongoing processes and procedures, helping to increase traceability, efficiency and accuracy.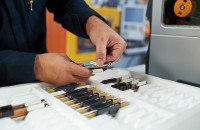 Our solutions help you to scrutinise production line statistics, enabling better quality control, improved adherence to production schedules and real-time order progress tracking, helping to monitor costs, improve customer service and reduce raw material wastage.
And with the ability to provide historical records of manufacturing data, thanks to complete audit trail access, you can easily identify when a product was manufactured and by whom, should an issue arise.
To find out more about how Dakota can help you realise the benefits of automating your manufacturing processes, contact us today.
See how we can help
If you'd like to talk to us about how Manufacturing can help you, please do get in touch.
Talk to an expert