Employee Spotlight Of The Month: Andrea Guest – Account Manager (Printing Solutions)
7th September 2021
Welcome to the seventh of our 'Employee Spotlight of the Month' interviews! At Dakota, we believe that everyone within our organisation plays an equally important role in making the company what it is today.
Each month we will be sharing an interview with a member of staff in order to showcase their key responsibilities within the business and the benefits which they offer to our valued customer base.
This month we spoke with Andrea Guest, Account Manager (Printing Solutions), to find out more about her role within Dakota.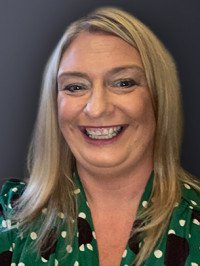 1. How long have you worked at Dakota and how long have you been in your current role?
I have worked for Dakota's Managing Director, Keith Hardy, for over 20 years and have been employed at Dakota for the last 16 years. I initially worked in the Accounts Department, however due to my background in Sales, I changed to my current role after a few years.
2. What does the role of Account Manager (Printing Solutions) at Dakota involve?
My aim is to provide the best possible level of service to my customers, ensuring that they benefit from the best pricing and products available to suit their needs. Being on hand to problem solve, advise and assist with new projects is also a key factor in my role.
3. What key attributes do you believe you need in order to achieve success within your role?
I believe the key attributes of being a successful Account Manager is getting to know as much as possible about your customers' business operations and which services and products will best enhance their productivity. It is also important to listen to what they want to achieve and offer the most appropriate solutions to help them realise their goals.
4. What do you enjoy most about your role at Dakota?
Getting the job done! I love seeing that my customers are satisfied. The vast majority of my customers have been with me for many years, and I have gained their trust and confidence which gives me great pleasure.
5. What are the most challenging aspects of your role?
With the market being as volatile as it is at present in terms of raw material pricing and stock, I am currently finding not having the ability to provide exact delivery schedules extremely frustrating.
6. How do you believe that your role positively impacts our customers' experience?
Customer service to me is paramount and always has been. I ensure that products and services are delivered on time and are fully supported with minimum disruption to the customer.
7. And finally…..please give us an interesting or fun fact about yourself
I'm a very fun-loving person who thinks she can sing after a few glasses of vino, however on many occasions I've been told that I definitely can't……….