Dakota And The Config Team Wrap Up Voice Contract With Euro Packaging UK Ltd
30th March 2022
Dakota Integrated Solutions Ltd, a real-time technology, printing, mobility and digital data capture solution specialist, is pleased to announce that it has been awarded a contract alongside partners The Config Team, a leading authority in the SAP supply chain, to integrate a voice-directed software solution into Euro Packaging UK's warehousing facility.
This contract award follows Dakota's recent partnership announcement with The Config Team, a move which has facilitated the voice-enabling of The Config Team's PreBilt SAP software platform, therefore adding voice-directed technology to its already wide-ranging solution portfolio.
Part of the EP Group, Euro Packaging UK specialises in the production of paper and plastic packaging products, manufacturing a range of items that includes carrier bags and industrial, janitorial and food packaging.
The new contract to install a voice-picking solution into Euro Packaging UK's warehousing facility will enhance overall productivity, efficiency and accuracy, which will undoubtedly prove beneficial in light of its soon-to-be-launched online shop.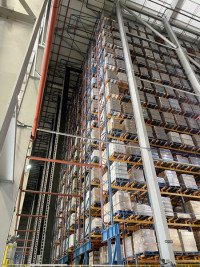 Les Tyrell, SAP Operations Consultant at Euro Packaging UK, states "I am delighted that we will be implementing a voice-picking solution within our warehouse. The launch of our new online shop will increase our order quantities and I am relieved that we now have a solution which will be able to handle this anticipated escalation in orders, as well as helping us to maintain our renowned levels of customer service."
Tyrell's comments have been echoed by colleague Paul Timmins, Group IT Director at Euro Packaging UK, who adds "Both Les and I were keen advocates of a voice solution implementation from the start as we recognise the benefits that such a solution will bring to us as a business and how it will enable us to improve upon our mission-critical supply chain and order fulfilment processes. We are pleased to be working with both Dakota and The Config Team and we are very grateful to them for guiding us through the product selection process. We believe that this solution will prove highly successful, and we look forward to continuing to work with both companies to get the new system up and running in the very near future."
Philip Jarrett, Commercial Director at Dakota, comments "We are delighted to have been awarded this contract alongside our partners The Config Team in the knowledge that this new solution will completely revolutionise Euro Packaging UK's supply chain processes. Conceptually, voice-directed picking is very similar to traditional scanner picking using RF data capture devices, however with voice, prompts are delivered and responses are provided through the spoken word, offering businesses a wealth of benefits including an increase in worker productivity by up to 35 percent and a reduction in errors by up to 50 percent."
In a voice-directed warehouse system, operators use a compact, wearable computer with a headset to receive instructions by voice. The computer is connected to the host business system (ERP or WMS) over a wireless network and the operator is able to confirm his or her actions verbally back to the system in real time.
Paul Fraser, Head of Sales at The Config Team, concludes "Our new partnership with Dakota is now starting to deliver on our vision for voice-enabling our PreBilt software platform. Our new combined solution will enable Euro Packaging UK to streamline their processes, increase user engagement and productivity whilst enhancing operational efficiencies, and we are very much looking forward to all parties working together to ensure a smooth integration and installation process."