"Don't Be Afraid To Give Up The Good To Go For The Great" (an M&I-Focused Article By Ellie Jarrett, Marketing Manager)
3rd August 2021
According to the American business magnate and philanthropist John D Rockefeller, you "should not be afraid to give up the good to go for the great." As with many aspects of life, including business, we are constantly striving to do things better, improve our current processes, techniques and procedures, whilst going above and beyond to achieve success.
It can sometimes be a daunting prospect to change your day-to-day mantra in order to achieve this success, however with the right know-how and support, it can be the key to growth and achievement.
In terms of technology, continuous development to make things work faster, better and more efficiently remain a top priority for many enterprises today, whether this refers to new technologies which are being created or those which are adopted within forward-thinking commercial institutions.
Designed to deliver an impressive set of statistics, including an increase in efficiency of up to 35%, Voice is rapidly becoming a buzz word within a wide range of markets, such as manufacturing, warehousing, distribution, aviation and now haulage and transport. Within this sector, Voice-Directed Solutions are a relatively new phenomenon, but one which is making business owners sit up, listen and take note thanks to its wide range of attention-grabbing benefits and performance data.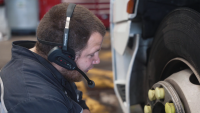 Some of our prospective clients handle the concept of Voice with a certain amount of initial trepidation since they are already working with 'good' technology in order to achieve their business goals. However, we believe that they should make the move towards Voice and therefore consider something 'great'.
A 35% uplift in productivity; 50% reduction in errors; 20% improvement in safety; decreased training times. These figures speak for themselves. However, the element of business future proofing which Voice can achieve is an almost immeasurable factor, as is being 'ahead of the curve' in the way that your business is run compared to that of the competition.
Nobody who we have presented Voice to is adverse to it; quite the opposite in fact, which is not surprising given what it can do. Within workshops and repair centres, it also enables operators to work 'hands-and-eyes-free' – quite a handy feature if you require two hands when performing simple or complex repairs. But it's not just down to the provision of convenience, it also helps to provide that all-important level of compliance.
Road safety is everyone's responsibility and with the number of commercial vehicle registrations rising year on year, it is imperative that fleet owners and operators not only comply with road safety standards, but also keep their vehicles in tip top condition to help significantly reduce the inevitably frustrating and costly downtime that breakdowns can and do cause. Ensuring that each and every vehicle is DVSA compliant and that every vital check has been carried out and recorded is an essential element in achieving improved road and driver safety; something which Voice can have a vital cost-saving and safety-conscious hand in.
Dakota's recently formed partnership with DVSA-accredited company Truckfile has helped to make Voice Solutions within the transport and haulage sector a reality. The addition of Voice to Truckfile's already wide-ranging portfolio has enabled them keep pace with new advancements in technology and bring a voice-enabled platform and its corresponding tangible benefits to its impressively large customer base.
Underpinned by state-of-the-art Voice technology from market-leader Honeywell, the new solution is designed to provide Truckfile's existing and prospective customers with enriched operational intelligence, increased worker productivity and a better working experience for any team of technicians thanks to real-time, data-driven communication.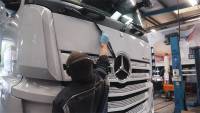 A perfect combination for any forward-thinking fleet owner.
And if you are environmentally minded, as people in this day and age should be, Voice, as a fully digitalised platform, also generates a reduction in carbon footprint due to zero paper usage, so it helps to save the planet too.
What's not to like?
Whilst the list of benefits of Voice is certainly compelling, the only element which may hold people back is the unknown. Being used to their regular or normal solution and not feeling comfortable enough to move forward with something new. But as with anything in life, it's good to move on from the 'good' and go for the 'great.' And in the event that the contents of this article and John D Rockefeller's quote may inspire some to move forward, we will be there to help make this happen, since we firmly believe that everyone should always aspire to become 'great.'
Ellie Jarrett, Marketing Manager, Dakota Integrated Solutions
Voice-Directed Automotive Maintenance & Inspection
A Comparison of Voice versus Paper - Maintenance & Inspection