Employee Spotlight Of The Month: John Greenwood – Systems Integration Specialist
8th December 2021
Welcome to the tenth of our 'Employee Spotlight of the Month' interviews! At Dakota, we believe that everyone within our organisation plays an equally important role in making the company what it is today.
Each month we will be sharing an interview with a member of staff in order to showcase their key responsibilities within the business and the benefits which they offer to our valued customer base.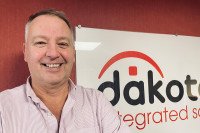 This month we spoke with John Greenwood, Systems Integration Specialist, to find out more about his role within Dakota.
1. How long have you worked at Dakota and how long have you been in your current role?
I have worked at Dakota since the day it was established back in 2002 so this is my 20th year! My job title has changed on a couple of occasions, but my role has always been in direct sales, focusing on mobile computing and Auto ID technology solutions.
2. What does the role of Systems Integration Specialist at Dakota involve?
My background in this industry has historically been with mobile data communications, first working for LIS Ltd based out of High Wycombe back in 1988. We were the UK agents for LXE who at that time led the way in the mobile computing marketplace. Whilst technology has changed incredibly since then, the end game for the customer remains the same – to improve operational efficiency, productivity and profitability. I like to think that my role revolves around making all of these things happen for our customers.
3. What key attributes do you believe you need in order to achieve success within your role?
In order to achieve success within my role, good sound product knowledge along with the ability to listen to our prospects' business challenges are essential, as well as having the ability to relate what we have in our solutions "tool kit" which will assist with these challenges and ultimately make the customer's business more efficient.
4. What do you enjoy most about your role at Dakota?
I like the variety of solutions that we have to offer our customers and the fact that very rarely are two customer's requirements exactly the same. It is also good to know that once a solution is up and running, the customer appreciates what we have done for them. Finally, it also helps that I like driving which sadly, due to COVID, has been severely restricted over the last two years, but I am sure this will return to normality once again, hopefully in the near future.
5. What are the most challenging aspects of your role?
In these days of instant communication through email or via mobile phones, it may come as a surprise to hear that communication with our prospects can be a challenge as everyone is so busy. New technology always brings new challenges and at Dakota, we have a number of them which we have started to work with already or will be bringing on line in 2022………so watch this space!
6. How do you believe that your role positively impacts our customers' experience?
I sometimes forget how long I have been in this industry. This is now my 34th year and I have picked up a great deal of knowledge during that time. More often than not, this can be called upon and brought to bear in a positive way with our customers' projects, helping to bring about a good conclusion for both our business and theirs.
7. And finally…..please give us an interesting or fun fact about yourself
When I was 16, I climbed the highest mountain in the Pyrenees, Pico de Aneto, which is just over 11,000 feet high……………………I must have been mad as I wouldn't go near it now!