Employee Spotlight Of The Month: Mark Batchelour – Head Of Systems
15th November 2023
Welcome to the twenty-second of our 'Employee Spotlight of the Month' interviews! At Dakota, we believe that everyone within our organisation plays an equally important role in making the company what it is today.
Each month we will be sharing an interview with a member of staff in order to showcase their key responsibilities within the business and the benefits which they offer to our valued customer base.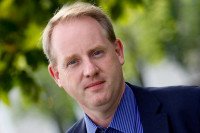 This month we spoke with Mark Batchelour, Head of Systems, to find out more about his role within Dakota.
1. How long have you worked at Dakota and how long have you been in your current role?
I have been at Dakota for 6 months now. I started on 1st June 2023 although I had been working alongside Dakota in various roles before that.
2. What does the role of Head of Systems at Dakota involve?
The role of Head of Systems largely involves the pre-sales of our solutions. I act as a technical resource alongside our Technical Manager Mike Mannall and our Head of Service James Roberts. We work with our customers to match what they want with what we can supply and what makes commercial sense. I also develop solution demos and trials where a prospective customer needs to see what they are buying first. This is usually achieved by building a cut-down version of their final product which is enough for them to realise the benefits and gains that they will get through implementing our solutions. The primary goal of these demos and trials is for them to see the benefits without developing the whole solution up front.
Another large part of my role is working on the Voice-Care solution design and development. We have just run a successful trial at a large London-based Trust where I managed the design of the trial system and the deployment of the trial into the hospital, which included working with their IT team, user training, trial results analysis and end user focus groups and reporting.
3. What key attributes do you believe you need in order to achieve success within your role?
A big contributor to achieving success within my role is having over 20 years' experience in voice-directed work systems in addition to harnessing an understanding of the way people work in various situations. It is also advantageous to be able to explain complex technical or process-related information to a wide range of personnel within our customers' teams, from warehouse pickers to company CEOs.
4. What do you enjoy most about your role at Dakota?
I enjoy many things about my role within Dakota, however the ability to make a difference to our customers and positively impact their experiences definitely ranks very highly for me.
5. What are the most challenging aspects of your role?
The nature of my role means that I am dealing with a lot of customers at any one time. Their plans can often change frequently, which means that it is hard to plan anything more than a few days in advance, which can often be challenging. Our customers are also based all over the country, so the amount of travel is also quite demanding.
6. How do you believe that your role positively impacts our customers' experience?
I believe that as a result of what I and the rest of the Technical Team do, customers are able to fully appreciate the extent of our solutions and are able to get hands-on with the technology, which helps to bring our extensive range of solutions to life and enables them to realise the positive impact that they will have on their business in terms of streamlining mission-critical processes and helping to save valuable time and resource.
7. And finally…..please give us an interesting or fun fact about yourself
I grew up living next to an ejection seat factory and as a result, have probably seen more dummies shot into the air than most people!