Employee Spotlight Of The Month: James Roberts, Head Of Service (Delivery & Projects)
12th April 2021
Welcome to the second of our 'Employee Spotlight of the Month' interviews! At Dakota, we believe that everyone within our organisation plays an equally important role in making the company what it is today.
Each month we will be sharing an interview with a member of staff in order to showcase their key responsibilities within the business and the benefits which they offer to our valued customer base.
This month we spoke with James Roberts, Head of Service (Delivery & Projects), to find out more about his role within Dakota.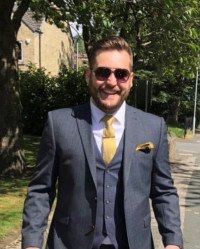 1. How long have you worked at Dakota and how long have you been in your current role?
I joined Dakota in June 2018 and have worked in my current role since joining the company. In early 2020 I became part of the Dakota Management Team.
2. What does the role of Head of Service (Delivery & Projects) at Dakota involve?
Operational by nature, my role sees me working internally on matters such as customer support, process improvement, compliance and the implementation of tools and technology. I also work closely with our Commercial Team in customer-facing roles such as Project Management and pre-sales activities.
3. What key attributes do you believe you need in order to achieve success within your role?
Strong communication and organisational skills are key, as well as an ability to deal with multiple sets of activities at any given time without compromising on quality.
4. What do you enjoy most about your role at Dakota?
I enjoy the amount of variety my role affords me due to the different sectors Dakota operates within, as well as the portfolio of services and solutions we offer. Our businesses' diversity often brings fresh, exciting challenges and learning experiences to me in my role, which I thoroughly enjoy.
5. What are the most challenging aspects of your role?
The most challenging aspects of my role are working to stay up to date with the latest technological developments around all the solutions which we provide to our customers to ensure that both myself and our Teams are able to not only implement and deliver the best solutions on the market, but also to be able to service and support these technologies thereafter.
6. How do you believe that your role positively impacts our customers' experience?
I believe that my role acts as a key interface for our customers into the service element of our business. Through my close workings with our Commercial Teams and with our customers as part of the delivery of our solutions, I always aim to develop a strong and effective relationship with our customers and provide access and reassurance to our Teams responsible for roles such as Project Management and Technical Support.
7. And finally….. please give us an interesting or fun fact about yourself.
I could be considered a little bit of a 'gamer geek' by some! I completed both a Bachelors and Masters level degree in Computer Games Design and Development and have been an avid gamer since a young age. My home office even contains a number of collectors' edition items from my favourite video games!