Employee Spotlight Of The Month: Laura Barker, Customer Service Manager
8th March 2021
Welcome to the first of our 'Employee Spotlight of the Month' interviews! At Dakota, we believe that everyone within our organisation plays an equally important role in making the company what it is today.
Each month we will be sharing an interview with a member of staff in order to showcase their key responsibilities within the business and the benefits which they offer to our valued customer base.
This month we spoke with Laura Barker, Customer Service Manager, to find out more about her role within Dakota.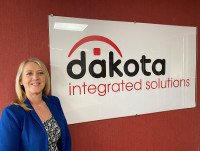 1. How long have you worked at Dakota and how long have you been in your current role?
I have worked at Dakota since 2017 and have recently taken up the role of Customer Service Manager.
2. What does the role of Customer Service Manager at Dakota involve?
I work closely with my assistant Jade Broadbent and my colleague Tom Simms who currently runs our warehouse. I am involved in the day-to-day processing of orders, invoices and shipments as well as maintaining and purchasing stock. I also deal with any delays to deliveries from our suppliers and any other customer queries.
3. What key attributes do you believe you need in order to achieve success within your role?
I believe that attention to detail is key to the success of any Customer Service Management role. Get just one digit wrong and you could end up ordering an entirely different and incorrect product. You also need to be able to put yourself in your customers' shoes; to understand what they require from Dakota and why they are asking for a particular thing.
4. What do you enjoy most about your role at Dakota?
I really enjoy the variety of tasks that this role demands. As a company we deal a lot with the NHS and a wide variety of customers in general. We have a fantastic team of people here at Dakota, from the Sales Personnel right through to the Accounts Team. We are a close-knit community and we all get on really well.
5. What are the most challenging aspects of your role?
The rare occasions when we are unable to get products in time for our customers are very frustrating. I always want to be able to help them and exceed their expectations as much as possible and I always like to be able to find solutions which will help and benefit our customers whenever possible.
6. How do you believe that your role positively impacts our customers' experience?
Items such as labels and ribbons may not appear to be particularly exciting products to most, but ultimately the consumable items which we supply to our customers help them to run their businesses as productively as possible as without these products, production can stop. Our job is to make it easy for them to do business with Dakota. Communication is key.
7. And finally…..please give us an interesting or fun fact about yourself
I absolutely love cricket! I was at the now-famous match at Headingly in 2019 and saw Ben Stokes and Jack Leach pull off the most epic Ashes-saving win!