Zebra Temptime Safe-T-Vue Blood Bag Indicators
Non-Reversible Temperature Indicators
Designed for use by healthcare providers, Safe-T-Vue indicators are blood bag temperature monitors which help to determine if blood or blood products have reached or exceeded the indication temperature required to support compliance with blood handling requirements.
Changing colour from white to red when the blood has reached or exceeded six or ten degrees centigrade, depending on the version being used, the indicators show whether a high temperature excursion of a blood bag is in the process of occurring or has already occurred, prompting the caregiver to either place the unit back into a temperature-controlled environment for future use, or take further corrective action.
With the ability to constantly monitor the temperature of the blood product for the life of the unit, the indicators help to minimise wastage within blood banks. As long as the indicator remains white, blood may be stored for future use and does not require removal on future re-issues.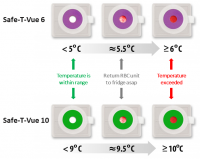 Features
Refrigerator & temporary container storage solution
For interoperative storage of red blood cells, whole blood & plasma
Temperature indication: 6◦C or 10◦C (dependent on product version)
Allows for identification of non-heat-exposed blood products for storage & future re-issue
Promotes requirements of accountability during intraoperative storage
Provides accuracy +/- 0.4◦C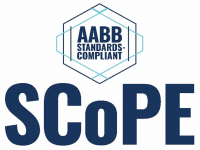 See how we can help
If you'd like to talk to us about how Zebra Temptime Safe-T-Vue Blood Bag Indicators can help you, please do get in touch.
Talk to an expert