Dakota Appoints New Internal Sales & Support Coordinator, Briona Hines
22nd April 2022
We are delighted to welcome Briona Hines to the Dakota Team as our new Sales & Support Coordinator.
Briona previously held the position of Health & Safety Coordinator at The Hut Group, as well as formerly fulfilling roles as a Warehouse Supervisor, a Sales Administrator and a Receptionist at a variety of different companies over the years.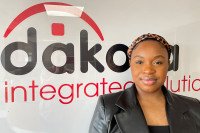 Tasked with a range of duties within her role, Briona will be responsible for following up on prospective client leads, managing and growing a number of house accounts, liaising with suppliers and business partners, as well as responding directly to customer enquiries in order to help increase the sales of products and services whilst maintaining high levels of customer service. Briona's new role will enable her to utilise her excellent communication and organisational skills whilst providing fundamental support to the Dakota Sales Team.