Employee Spotlight Of The Month: Ellie Jarrett – Marketing Manager
28th April 2022
Welcome to the fourteenth of our 'Employee Spotlight of the Month' interviews! At Dakota, we believe that everyone within our organisation plays an equally important role in making the company what it is today.
Each month we will be sharing an interview with a member of staff in order to showcase their key responsibilities within the business and the benefits which they offer to our valued customer base.
This month we spoke with Ellie Jarrett, Marketing Manager, to find out more about her role within Dakota.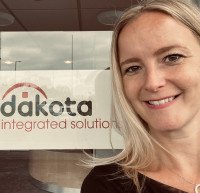 1. How long have you worked at Dakota and how long have you been in your current role?
I have been with Dakota since September 2020 and have been the Marketing Manager here since I joined.
2. What does the role of Marketing Manager at Dakota involve?
The role of Marketing Manager at Dakota is extremely varied! My main task I would say is keeping the company's image fresh and updated; making sure that every piece of Dakota collateral in use within the public domain is an appropriate representation of the business and the people who work here. I also liaise with vendors with regard to collaborative marketing activities as well as ensuring that the website is up to date whilst keeping all of our contacts and customers informed of the latest Dakota developments on social media. I also organise events on behalf of the company so in essence I initiate, coordinate and manage Dakota's complete spectrum of marketing activities which also includes budget planning and strategy management.
3. What key attributes do you believe you need in order to achieve success within your role?
In order to achieve success within my role I have to be organised, creative, consistent and outgoing! I need to be able to communicate effectively with our key partners, vendors, suppliers and customers in order to maximise our marketing output whilst keeping it to the point and relevant.
4. What do you enjoy most about your role at Dakota?
I am very lucky because I really love my job! I work with a team of fantastic, hard-working people who are dedicated to the success and growth of the business, and hopefully that shines through in all the various aspects of our marketing activities. I also like learning about and promoting new technologies and have really enjoyed bringing a fresh approach to the company in terms of its corporate image and marketing initiatives. The last 18 months have been extremely busy, but I can honestly say that it has been a really enjoyable experience so far.
5. What are the most challenging aspects of your role?
I guess my main challenge would be 'writer's block' which happens on the odd occasion and that can be very annoying and frustrating.
6. How do you believe that your role positively impacts our customers' experience?
I like to think that my role has a positive impact on our customers in the way that they can clearly see what we offer by presenting the company's latest information and news in a fresh and informative way. I also love the opportunities to write case studies in conjunction with our customers, which not only highlight our solutions, but most importantly highlight how their businesses have benefitted as a result of a solution implementation and how their pain points have been alleviated as a result. It's great to be able to express that achievement on their behalf within various forms of media.
7. And finally…..please give us an interesting or fun fact about yourself
I have always felt like I was a bit of a nomad before settling down. I have done quite a bit of travelling and have lived in both Germany and Canada, but I have definitely found my home in Manchester with my family, so I am now completely settled – I am a nomad no more!