Dakota Supports Local Charity With $5,000 Award Donation
6th October 2021
Dakota Integrated Solutions Ltd, a real-time data capture, printing, mobility and support solution specialist, is delighted to announce that it has donated $5,000 to local charity Derian House Children's Hospice following an award received from Zebra Technologies in recognition of its work in supporting front-line workers during the pandemic.
Derian House Children's Hospice provides respite and end-of-life care to more than 400 children and young people from across the North West. The care provided at Derian House is free for families, but services cost £5million to run every year. With only 12 per cent of funding coming from the government, the charity relies heavily on the generosity of its supporters and corporate partners.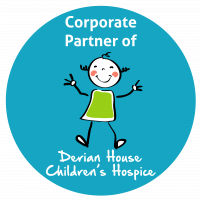 Dakota's prestigious award is a result of the company bringing in a skeleton staff following the Government's Stay-at-Home Policy announcement in March 2020 in order maintain its supply of wristbands to the NHS in their hour of need. The business was able to hold stock of a large amount of Zebra wristbands so that daily deliveries to NHS facilities all around the country could still take place. In total, Dakota has supplied in excess of 22 million wristbands to the NHS during the past 18 months.
In order to help keep up with demand, Dakota's Warehouse Manager, Brian Mulholland even postponed his retirement to help with the daily shipments. His efforts were recognised when Brian scooped a coveted 'Everyday Hero' award on the BBC News for his continued support of the NHS by helping to supply vital equipment during such challenging times.
Keith Hardy, Managing Director at Dakota, comments "We were determined to support the NHS in any way that we could during this extraordinary and unusual situation. By bringing back a few members of the team as well as employing temporary staff in order to cope with the huge number of wristband deliveries and shipments, the team at Dakota was able to maintain its support of the NHS by processing all orders and continuing its wristband consignments when they were needed the most. Hospitals were becoming overwhelmed and we wanted to ensure hospital workers, staff and clinicians had everything they needed at all times in order to cope with the vast influx of patients. Shipments were leaving our warehouse on a daily basis and we made sure that there was always someone on hand to handle these – we never missed a day. I am extremely grateful that Brian agreed to postpone his retirement to assist with our efforts and I am immensely proud of how the staff here at Dakota pulled together in order to do their part to support the NHS."
Hardy continues, "We are thrilled to have received this award from Zebra in recognition of our efforts during the pandemic and I am delighted that our efforts have not only helped front-line workers, but that they have also benefitted Derian House Children's Hospice, as they are a very deserving local charity and work so hard to make a difference to the children which they care for and their families."
Sarah Proctor, Community Fundraiser at Derian House, concludes "Congratulations to Dakota on receiving this award in recognition of their wonderful work during the pandemic. We are extremely thankful for their generous donation which will help us to continue caring for children and young people with life-limiting illnesses from across the North West."
To find out more about Derian House or to make a donation, visit www.derianhouse.co.uk