Integration Expertise Across A Broad Range Of Applications - Manufacturing & Logistics IT Exclusive Interview
13th December 2021
Manufacturing & Logistics IT spoke with John Greenwood, systems integration specialist, Dakota Integrated Solutions, and commercial director, Phil Jarrett, about recent developments within the company, and the importance of providing customers with tailored solutions backed up with full service and support.
Dakota Integrated Solutions offers mobile computing and data collection expertise covering everything from consultancy, design, wireless survey, pilot testing and recommendation through to the supply of hardware, pre-configuration, installation and commissioning. With over 150 years' combined industry experience, the company has established an enviable reputation as a leading provider of scalable, customisable and fully integrated back-office and mobility solutions across a broad range of business sectors. These include distribution, manufacturing, warehousing, supply chain, field service and healthcare. The range of solutions and services comprises data capture solutions, RF tag encoding and barcode label printing through to application design, hardware recommendations, systems integration, managed services, maintenance and post-sales training and support.
High-profile customer base
Whether a company is a large enterprise or SME, Dakota can assist them in deploying cost-effective and operationally successful integration projects. Just some of Dakota's high-profile customers include Alliance Healthcare, pharmaceutical company Thornton & Ross, TATA Global Beverages, Conair and Vantec Europe, Primagas, Univar Solutions and Historic Royal Palaces.
"Prior to contacting us, many of our clients relied on spreadsheets and accounting packages – indeed, some of them hadn't moved on from pen and paper," John Greenwood, systems integration specialist at Dakota, explains. "One of our primary remits as a solutions provider is to make these companies aware of what IT solutions are available to them and not just how affordable they can be but also how quickly an ROI can be achieved through putting in place major improvements in their business and operational practices. The best of today's ERP, MRP, WMS and Supply Chain Management systems now also offer analytics and legal compliance features as standard. Moreover, through our assistance these systems can be speedily implemented and easily integrate with a company's existing software portfolio."
"Our support is fully comprehensive, covering everything from
device replacement, fault diagnosis and even accidental
damage repair."
John Greenwood, Systems Integration Specialist, Dakota Integrated Solutions
Full service and support
Greenwood adds that if prospective users have any concerns about not being able to gain the maximum benefit from these systems, Dakota is on hand to guide them through every step of the process, both during the consultation stage through to implementation and go live, as well as by means of ongoing service and support.
Similarly, in terms of mobility solutions, Greenwood adds that protecting mobile scanning and printing technology – both hardware and software – with a full support package from Dakota will ensure the longevity and productive lifecycle of the system. "Our support is fully comprehensive, covering everything from device replacement, fault diagnosis and even accidental damage repair," he explains. "Interestingly, although at first it might appear that a fault has occurred on a device, we know from long-term experience that the issue could be something that can be fixed within five minutes by providing simple guidance over the phone. Our technical team at Dakota Managed Services (DMS) is there to take those types of calls and help people resolve issues within a short timeline, whether they be quick fixes or things that need more complex remedies. We are ready to react quickly in order to minimise any downtime experienced by a customer."
Getting to know the customer's requirements
Greenwood emphasises the importance for Dakota in fully understanding a customer's precise solution and service requirements from the outset. "During the initial face-to-face consultation with a customer, we set out to obtain a detailed understanding of what the company wants to achieve by investing in new solutions, both at a business and operational level," he points out. "Then, drawing on our in-depth solutions knowledge we determine, for example, what type of scanning solution would be the best fit for the customer – laser versus imager, multiple barcode capture on an individual label versus single code capture and so on. By getting up close to the customer this gives us the best opportunity to get things right first time and ensure the customer realises its goals from the get-go."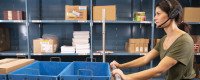 Honeywell Platinum Partnership Status
In April of this year, Dakota achieved Honeywell Platinum Partnership Status. This accolade means it is able to offer Honeywell's entire product range, including voice-directed technology and solutions. Dakota's new Honeywell-based solutions offer a wealth of opportunity to Dakota and its clients alike. "We now have the ability to supply voice-enabled solutions to customers, empowering them to reach new heights in terms of data capture performance and overall business functionality," explains Phil Jarrett, commercial director of Dakota.
The benefits of voice-directed picking
Voice-directed picking is very similar to traditional scanner picking using RF data capture devices. With voice, however, prompts are delivered, and responses are provided through the spoken word, offering businesses a wealth of benefits including an increase in worker productivity by up to 35% and a reduction in errors by up to 50%. In a voice-directed warehouse system, operators use a compact, wearable computer with a headset to receive instructions by voice. The computer is connected to the host business system (ERP or WMS) over a wireless network and the operator is able to confirm his or her actions verbally back to the system in real time.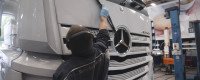 Truckfile partnership
Dakota has also partnered with Truckfile, the provider of a market-leading M&I solution for the freight transport sector. Having originally developed M&I software for use on PDAs and later tablet PCs as an effective alternative to paper task lists, the company became increasingly aware of the efficiencies offered by voice-directed technology for picking and replenishment tasks within the warehousing/DC space and realised how effective it could be if applied to M&I tasks. Jarrett explains the background behind the partnership. "It all came about after Truckfile approached Honeywell to find a solutions provider of voice technology. Because of Dakota's existing relationship with Honeywell as a Platinum Total Solution Provider for Voice Solutions, it quickly became apparent that Dakota was a good fit for Truckfile's requirements. Introductions were subsequently made and as we got to know each other better as companies we soon realised we weren't only ideally suited as partners through our commitment to voice, but also shared many similarities in terms of company culture; for example, in the way we approach prospective users of our solution offerings and how we serve and look after existing customers."
Truckfile currently has well over 200,000 vehicles or assets on its system and approximately 29,000 users within the freight transport marketplace. One of Truckfile's first major customers was Mercedes Benz, with the Truckfile system being rolled out across all Mercedes' commercial vehicle workshops in the UK. Mercedes is now undergoing a pilot rollout for the use of the voice iteration of Truckfile's M&I solution.
"Because of Dakota's existing relationship with Honeywell as a
Platinum Total Solution Provider for Voice Solutions, it quickly
became apparent that Dakota was a good fit for Truckfile's
requirements."
Phil Jarrett, Commercial Director, Dakota Integrated Solutions.
New website
February of this year saw Dakota launch a completely revamped website, which provides a comprehensive overview of the products, solutions and services offered by the company. "The new website – https://dakotais.co.uk – is much more feature rich, with video and social media-related content as well as company, solution and customer news updates," explains Greenwood.
State-of-the-art technology
Greenwood reflects that although much of the technology within the mobility world can start out as highly innovative and become commoditised quickly, some solutions remain at the cutting edge. "For example, one of the most exciting developments I have seen within the Auto-ID marketplace over the past five years is Zebra's DS3608-ER extended range imager," he says. "It remains one of the very best high-performance imagers for extended range scanning. This image engine can be integrated within handheld scanning devices enabling people to do certain things in customer environments that they weren't physically able to do previously."
Greenwood also highlights Zebra's 'Picklist Mode' scanning feature as something that remains cutting edge. This function can be enabled on Zebra's range of mobile computers using Zebra's DataWedge, which allows users to easily capture data via the integrated barcode scanner and Bluetooth cordless ring scanners. Picklist Mode allows the imager to decode only the barcode that is directly under the crosshair/reticle (+) part of the pattern. This feature is useful in applications where multiple barcodes may appear in the imager's field of view when only one of them is required to be scanned.
Another solution Greenwood sees as very much state of the art is Zebra's SimulScan application. "With SimulScan, users can streamline their operations, maximise worker productivity, error-proof their processes and so on," he explains. "It can be integrated into a user's native Android applications to take process automation to the next level. Workers can capture multiple barcodes on a label with a single scan, while the Document Capture feature enables workers to capture contents on a structured form in a single scan, including bar codes, text fields, phone numbers, signatures and more. At Dakota, we have found all these Android-based solutions extremely popular among our client base because of the added convenience, efficiencies and cost savings involved."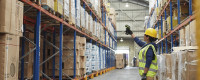 Current market trends and effects
Greenwood views Dakota as a company whose core raison d'être is to help companies deal both with internal strategic-type plans for change, but also to help companies to deal with more widespread market changes that can force companies to have to re-think how they run their business. "For example, we all know that the high street has been under threat from ecommerce for many years now – something that has become even more prevalent due to the current pandemic – and will likely look a very different place in the near future," he says. "Also, COVID-19 has arguably speeded up the demise of cash transactions by about five years or so, with more people now being asked to use chip and pin or contactless card payments. Because of this, some companies may disappear quicker than anticipated while others are going to benefit by embracing current internet retailing and cashless payment trends and the like."
Continuous improvements
The past 12 months have seen some major developments at Dakota," reflects Greenwood, "However, this is only the beginning, with more major customer announcements and solutions partnerships on the near horizon. One thing's for sure, you can never stand still in this marketplace."